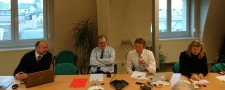 Amendment Disregarding EU Law Could Lead to Slovenian State Gaining over 100 Million Euros from Escheatment of Shares
Ljubljana, Slovenia, January 18, 2017 (Newswire.com) - ​​​​​​​​​​​​​​​​​The European Federation of Investors and Financial Services Users, Better Finance, recently sent an open letter supporting the PanSlovenian Investors' & Shareholders' Association (VZMD) to the Slovenian Prime Minister and Slovenian Members of Parliament as well as the European Commission's Directorate-General for Financial Stability, Financial Services and Capital Markets Union.
Better Finance joined VZMD in denouncing the Slovenian government's proposed amendments to the markets in Financial Instruments Act (ZTFI-G) which were sent to Parliament for final approval before becoming law​. Not only are the proposed amendments set to breach EU laws, but they also contain crippling restrictions aimed at preventing VZMD from acting as an advocate and custodian of the legitimate interests of minority shareholders and individual investors and will therefore be damaging to individual shareholders and minority shareholders if enacted into law.
VZMD's president, Mr. Kristjan Verbič ​has been actively speaking out against the proposed amendments and the severe restrictions that would harm individual shareholders. Mr. Verbič ​​urges members of Parliament to avoid becoming a part of the "trivial and narrow interest-driven campaign of the 'financial industry' and the Securities Market Agency (ATVP) which has taken actions against thousands of minority shareholders by misusing the legislative procedures but to instead abide by principles of fairness and wisdom".
Individual investors and minority shareholders had to scramble to retain ownership of their shares after the Slovenian government abolished their free registry accounts. VZMD established Share SUPPORT so that minority shareholders could keep their shares with minimal fees. Fees charged by Share Support are guaranteed to be the lowest possible, in the long-term, for the maintenance of securities ownership on the Slovenian capital market, in order that as many minority shareholders as possible may keep their shares.
The Share SUPPORT service offered by VZMD seeks to mitigate the harsh consequences stemming from the elimination of over 230,000 free registry securities accounts of minority shareholders, providing small shareholders with the only way to avoid the wiping out of their small shareholdings by intermediaries' fees in just a few years' time.
Despite the safe harbor offered by VZMD's Share SUPPORT, minority shareholders who managed to remove their shares from the registry and enroll in Share SUPPORT, are now swept up in the Slovenian government's effort to "eliminate identified deficiencies and inconsistencies of the applicable Financial Instruments Act".
Moreover, despite VZMD's establishment of Share SUPPORT, around 117,000 individual accounts still have not been removed from the registry which means the these accounts will first revert to a court depositary and ultimately escheat to the state unless an individual shareholder can pay fees, which in many instances exceed the value of the shares, to reclaim their account. The Slovenian government stands to gain approximately 100 million Euros from the abolishment of the registry accounts.
The amendments proposed by the Slovenian government disregard provisions of the Regulation (EU) No 909/2014 of the European parliament and of the Council of July 23, 2014 on improving securities settlement in the European Union and on central securities depositories and amending Directives 98/26/EC and 2014/65/EU and Regulation (EU) No 236/2012, especially the provisions of Article 38 of the said Regulation. Paragraph 5 of Article 38 reads: "A participant shall offer its clients at least the choice between omnibus client segregation and individual client segregation and inform them of the costs and risks associated with each option. However, a CSD and its participants shall provide individual clients segregation for citizens and residents of, and legal persons established in, a Member State where required under the national law of the Member State under which the securities are constituted as it stands at September 17, 2014."
Therefore, it is clear that after September 17, 2014, no additional restriction of omnibus client accounts may be adopted by laws of EU Member States. The proposed amendments to Article 255 of the Market in Financial Instruments Act (ZTFI-G) that seek to limit the ability of independent and not for profit shareholders' associations to procure for the attorney omnibus accounts would constitute such a restriction and would therefore breach the accumulated legislation, legal acts, and court decisions which constitute the EU law​.
About VZMD
For 12 years, VZMD has endeavored to improve legal and other frameworks pertaining to investors and the investment environment - on the Slovenian as well as European level. VZMD has successfully represented more than 150,000 shareholders in hundreds of different cases. Over the years, VZMD representatives and associates have actively attended numerous meetings and committees of the working bodies of the National Assembly, as well as many presentations, meetings, expert consultations and conferences in Slovenia and abroad.
The PanSlovenian Investors' & Shareholders' Association (VZMD) http://www.vzmd.si/, was founded to protect the rights of minority shareholders and retail investors and is led by its President Mr. Kristjan Verbič (Verbic@vzmd.si). Mr.Verbič is on the Board of The European Federation of Investors and Financial Services Users, http://www.betterfinance.eu/, a member of the Corporate Finance Standing Committee of the European Securities and Markets Authority and a member of World Federation of Investors.
Source: The PanSlovenian Investors' & Shareholders' Association (VZMD)
Share: